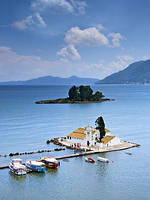 Corfu Reviews
---
Places to Visit
---
Corfu Guide
---
Local Directory
---
Corfu Maps


Eriva Apartments

(Accommodation in Acharavi)

8/10
Jane C
Lovely apartments and friendly staff, linen and towels changed reguarly, short walk to the beach and town.
10/10
Dawn A

Went to these apts for the first time this year and have booked to go next year. We had a great 2 bedroomed apt with brilliant sea views

Dawn xxx
10/10
Jill & rob R

Went to Eriva appts again this year and once again had a brilliant time Spiros & Angelika where brilliant hosts, already booked to go back next year and counting down the days already,Appts basic but very clean and always plenty of hot water no matter what time of the day

Jill & Rob Rix
8/10
Julie S

just got back from Ariva. we found the apartment small but ok. usual greek furnishings. very nice staff. lovely pool and pool area. great meals in the pool bar at good prices. very well positioned in the village. easy walk to akaravi and nice walk along beach to roda. would definately go again.

10/10
Kelly T

im 16 years old and last year went abroad for the first time . I stayed at the Eriva apartments and i am shocked to read some of the appaling comments some people have made about them.

The sunbeds agreed were usually already booked but it was not hard to find a spare one within five minutes as people were up and leaving to walk into the town or go down to the beach.

The lady elaine Scott who said the bar was taken up by teenagers everynight, i have to disagree with you, we used to come back every night at about half past eleven at night and find it extremly quiet and peaceful and that would stay until about 3am when we went back to our apartment to bed. The pool was never once covered in inflatables at 11pm because the pool was shut at half past 7 pm so you have basically just lied through your teeth.

I loved my holiday to the eriva apartments and i found it great and had alot of fun, deffo going back again "!

Wil O
another great holiday last year.kids loved it,as always.we made loads of good holiday friends..as always.kids made even more friends..as always!!!
Not going this year,as new house comes first(i think!),but can not wait to see denis,spiros,angelina and company again.
If anyone that we meet there last year is going next year(2008)give us a email...
see you all soon Wil,Michelle,Anna,Ben and Luis
Can U Help?
Moira M
Just booked the Eriva for September, never been to corfu before - any info would be good
Leah C

Just come back from the Eriva again, been going four years now and all i can say is....I WOULDNT GO ANYWHERE ELSE. I have never been to such a fantastic place, its clean, its nice and the people are friendly beyond beliefe, they are like a second family now and i love them all. There is absoloutley nothing to fault about the Eriva at all, take a holiday there and you will see what i mean. Missing it so much already, will get back as soon as possible. ( Alex missing u loadz if u read this.) Missed Ilias, Sofia and kleddis this year, so if you see this we miss you and congratulations on the baby. I really cant put this place into words, go there and you wont be dissapointed.

Elaine S

I have just returned from the Eriva Apts , and on the plus side they are very clean , the cleaners do an excellent job , rooms , bar and pool area. The furnishings are good , and there is air con - 20 euros a week . I think the rooms are very much pot luck , some are spacious and in a good position , ours was small , obviously mean;t for 2 people (not the 3 of us !) , very very noisey , and looked straight into the reception, room 35 . we heard every arrival , car , van pick up , motorbike , and everybody returning at night . So bad we had to move the babies bed into our room and build a 3rd bed !

complained to the rep , and got the usual apologies and nothing else .

the pool was good , however 70% of sunbeds were towelled the night before , and it was a fight for the rest . we had a 3 yr old who didn't like the stoney beach so we had to brave the poolside every day - couples tended to stay well away . It was full of kids - after 11pm , you could not see the water for inflatables - not to be bad if you have one of the offenders yourself ! , but the toddler pool was used for the water polo and was pretty rough for the smaller people.

there was no entertainment , rep quiz once a week , karaoke once every other week - left to the devices of the holiday makers , as nobody ran it - they just played the disc.

The people were friendly enough , we didn;t spend hours at the bar , so didn't become best of friends .

Archavi has good bars and tavernas , that cater for children , all very friendly, but again no entertainment to be found . - beach is stoney and not so good for small children although the water was really nice . Shopkeepers follow you around like hawks , which i and many others found very insulting - never happened in Kassiopi or anywhere else , so maybe they have had problems ?.

it was OK , but would not go back - certainly never in peak season !

Can U Help?
Hailey L
has any body got an adress for eriva apartments inh corfu. in desperate need for it thanks.
Ernie O

Was there last year in August and the place is spotless. people are lovely,

starlight bar is 50 yards away and josie and sperios make you very welcome

people who own the apartments very nice and always prepared to help

good family place no lager louts

Ernie/ Mary Orme

West Lothian

Scotland
Nick B

We had a great two weeks at the beginning of May, the season was only just starting and not everything was open in the area. Eat at the apartments a couple of times and everything we had was very good. Would recomend these apartments, and can't wait to go back next year. Nick & Jo

David E
If you have any doubts about this place. FORGET THEM! It is absolutely fantastic!

Unfortunately I can't make it this summer (With my children and stepchild and partner) But, There is a conspiricy with the kids and thier friends (made whislt at the Eriva!) for a big re-union in 2007. I have a feeling that this is going to cost me a huge amount as all the kids are now of an age where you pay for ADULTS!

You must remember that this is Greece and as a result is not spoiled by Watneys Red Barrel and fish and chips!

If you go there with a blinkered mind and need your sheets replaced every night, you are heading for dissappointment.

Go there with an open mind a fondness for the plumbing and to enjoy yourself, you will have a great time! I would reccomend this hotel to any body. I'll see them all again in 2007 and be all the richer for it!

Wil O

a really nice relaxing happy place to stay, for a great family holiday.my wife and three children,Anna,Ben, and baby Luis had a great time.we could not wait to re book for this years holiday.see you there.

ps Illias the
Ilias-sofia-kledis K

EXCELLENT!!! I USE TO LIVE AT "ERIVA" FOR 7 YEARS, IS THE BEST PLEASE IN THE WORLD. THEY ARE ALL MY BEST FRIENDS. ME AND MY WIFE, WORK FOR THEM, BUT WE FILLED LIKE IN OUR FAMILY. THEY ARE ALL FRENDLY,FAMILY PLACE. I THINK GO TO "ERIVA" AND TRY, AND YOU BELIVE ME.(I thought there are aircondition this year)

SEE YOU SOON ILIAS,SOFIA AND KLEDI
Tayla W

i went to the eriva hotel on 6th of june till the 20th june. i luved it. it was the best holiday ever. the owners or the hotel came family to us. the rooms were fab. there were many things to do in Acharavi go on boattrips. the pool was lovely to go in. we loved it so much we are goin back there this in july. looking forward to it. everybody should come it is a gdgd holiday.

Lynn D

Hi,

You have nothing to worry about. The Eriva apartments are fantastic. So much so that we are returning for the 4th time. The apartments are superb and you are only a short stroll from the beach road and tavernas along the beach, or go in the other direction and you have the top road, which also has bars tavernas/resturants and the well stocked supermarket. There is a pool bar where you can get snacks (pizza,burger,chips,hotdogs etc). Spiros and Angelica who own the apartments, become like family, as they are so friendly and keen for you to enjoy your holiday. We are planning to go back last week in June 1st wk in July so maybe we will see you.

You will have a fab time.

Enjoy

Dan S

The appartments are fantastic, best holiday ever.

We stayed at the end of May last year and enjoyed ot so much we're going back again.

The apartments don't have air con but this wasn't a problem.

For those who are thinking of going, regardless of whether or not you've only just arived, if the Greek night is on go to it.

HAs anyone got contat details?
Ian B
Hi, could anyone please tell me if the Eriva Appartments have air conditioning?
Many thanks

Kayleigh P

words cant even explail how good it was because it was better than excelent!!!
Jennifer M

Hiya just back from the Eriva for the third time and missing it so much!Definitely going back there next year hopefully to work - if your still wanting to Leah! Also you can get pretty much everything you need there at the local supermarkets and you can hire fans from the reception at about 5 euros week because theres no air conditioning in the apartments. Eriva is fab! Jen xx
Can U Help?
Carol A
Hi, can you help? We are due to go to Eriva apartments on 5th August with 2 boys ( 3 and 10.) Is there anything you can recommend we need to take with us or can you get almost anything there. Also do they hire fans for the rooms? Thanks Carol
Carol S

Hi We are a party of 22 due to go to Eriva apts Corfu on 22.07.2005. I would appreciate it if anyone could advise me if there are any fans or any form of air conditioning in the rooms.

Thanks
Jennifer M

Hi in reply to the comment about cockroaches - we have been to Eriva twice and we have never come across a single cockroach, so you don't have anything to worry about! We are returning to Eriva next week and I can't wait - hey Leah see ya soon! don't forget the book! wish you could make it back this year Gemma but there's always next year! see you soon Kleddie
Kayleigh A

hia i am going to eriva apartments in 11 days and i was wondering if 1 of u could tell me if it was clean enough coz lots of people have sed it was grubby and your sheets didnt get changed for the whole time they were there please tell me kay
| | |
| --- | --- |
| Search for Eriva Apartments in all of JustCorfu | |
More Hotels and Apartments in Acharavi...

Almyros Natura Hotel | Ano Studios | Beachside Bungalows | Beis Beach Hotel | Chrisa Hotel | Constantinos Studios | Corfu Aqua Beach Club | Corfu Village Apartments | Corifo Village | Dafnis Apartments | Erene Apartments | Eriva Apartments | Gelina Mare Hotel | Gelina Village | Harrys Apartments | Kamari Apartments | Kapetanious Apartments | Katerina Apartments | Mareblue Beach Resort | Marie Hotel | Matoula Apartments | Miltos Apartments | Nireas Apartments | Palm Tree Apartments | Panos Apartments | Restia Suites | Seaside Apartments | Socrates Studios | Tassos Apartments | Three Brothers Apartments | Yianoulla Studios |